User:Invisible Robot Fish
From Homestar Runner Wiki
HRWiki:Userboxes
| | |
| --- | --- |
| NO | This user doesn't believe in having Userboxes on his page. |
| | |
| --- | --- |
| ? | This user reserves the right to change his mind about Userboxes at anytime. |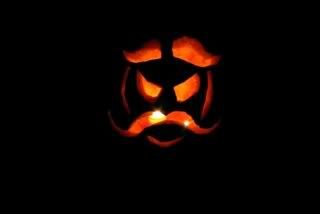 [edit]
Where is IRF?
IRF is busy...really, really, busy. With the three kids, working, and umpiring, I unfortunately have no time to wiki. I have been a H*R fan forever and a member of this fine wiki for several years. I hope that this is not the end to a chapter in my life. With the job that I have now, I have risen to the level to where I actually have important stuff to do. In my hay-day of wiking I would wiki instead of working...and when I went home, I'd wiki, but that really isn't an option anymore. I still make a few edits here and there, but as far I see it now, my days of coming close to resembling a power user are over. Still talk to me though, I log in about once a month.


[edit]
My Mantle
[edit]
Beginings
Haldo! I'm Invisible Robot Fish (IRF for short).
I've been around this great, big internet of ours a few times, so I know what I'm talking about. I made my first edit to this wiki on October 5, 2004. Amazingly, this edit survived to the present day. How is that for starting out on right foot, huh? Anywho, I was welcomed two months later by the proprietor himself, Joey Day. To date, I have made a total of 2700+ edits. 1040+ of them have been mainspace edits.
[edit]
About My Username
[edit]
My Contributions
[edit]
About Me
[edit]
Some of my tastes
[edit]
Haiku Corner
Inspired by Stux
Haiku Corner
Character Name
My Haiku
Character Name
My Haiku
Homestar

clueless no armed man
prancing like an idiot
I like Marshmallows

Strong Bad

Two-bit wrestle man
locks Strong Sad in the bathtub
loves to kick The Cheat

The Cheat

curious creature this yellow dog
fine looking young man he is
always saying meh!

Strong Mad

TAKE IT TO THE HOUSE!
essence of hands in water
loves The Cheat a lot

Strong Sad

depressio man
elephant legs, round body
teased by big brothers

Pom Pom

bubble bouncing man
he is the mack around here
from the isle of Poms

Marzipan

hear carol playing
oh that awful noise, it hurts
a hippie broomsitck

Coach Z

sketchy high school coach
buys "great for baby" items
has athletes footies

Bubs

lovable scam man
hi there every peoples
can float six inches

The King of Town

No one wants to write
anything about the King of Town
not writing one for him


The Poopsmith

very crappy job
employed by a big loser
quick, cover your nose

Homsar

The Human Wedgie
Captain of the Gravy Train
thrill of a lifetime

Lil' Brudder

dragging on the floor
I can make it on my own
handicapped guy

Limozeen

Limozeen hair band
Got the heart of a lion
the wings of a bat
Feel free to post yours here.


Nonsense incarnate
Random quotes are his forte
Blue midget Homestar

One-legged puppy
The Heart of a Champion
He's such a trouper

Making animations
What is he supposed to be?
Always Exploding
Powered by The Kate 22:56, 13 January 2006 (UTC)

HRcoder was so nice to write thise one about me

A haiku about you:

Invisible fish

Is possibly robotic

Is it a mecha?


Homestar Coder

19:28, 23 January 2006 (UTC)

Animal lover
Off to chinchilla protest
Loves to eat tofu!
Powered by The Kate 23:25, 25 January 2006 (UTC)


Well, his head a splode
Master of Strong Badia!
Prank calls Marzipan
Powered by The Kate 23:28, 25 January 2006 (UTC)


Fighting and training
Asking for a challenge
Loves power crunches

Homestar Coder

23:36, 26 January 2006 (UTC)



Veggie Tales Rules!
Sing Silly Songs with Larry
They're missing their arms
Powered by The Kate 22:32, 9 February 2006 (UTC)



Modestly Hot Homsar

Meep-Beep-Beep-Meep-Beep
Said The Cheat-Bot in a calm voice
Calculate he does
--Dacheatbot · Communicate 22:33, 31 May 2006 (UTC)


Leads Cheat Commandos
Voiced by a lazy actor
Gunhaver has gun
WhatThePfargtl 04:22, 18 June 2011 (UTC) 00:00, 1 January 2000 (UTC)
[edit]
Thanks for stopping by!
If you liked this page (or read it and disliked it). Please let me know on my talk page Process Improvement Database







codes for me because I'm too lazy to remember them
{{subst:unsigned|user_name|~~~~~}}
{{subst:showpreview}} ~~~~