User talk:Viklas
From Homestar Runner Wiki
[edit]
Welcome!
Welcome to the Homestar Runner Wiki! We're glad to have you as a member. If you need any help, feel free to ask anyone on the welcoming committee. You can also post questions on the FAQ talk page.
Here are some tips to get you started:
If you need general information, editing tips, or answers to frequently asked questions, check out the help page.
Before you do any significant editing, be sure to familiarize yourself with our wiki standards.
Read up on the rules and guidelines for your user page.
If you're not sure what you can do to help out, head over to The Stick.
If you're looking for more community interaction, you can also register over at our forum.
Above all, be sure to be bold and have fun!
I hope this information is helpful, and that you'll have a good experience contributing to our knowledge-base and our community. And feel free to delort this message when you're done reading it.
Sincerely,
TheYellowDart—(t/c) and "The Homestar Runner Wiki Welcoming Committee", 20:14, 7 January 2007 (UTC)
[edit]
Hey Littlest Bro!
Hey man! Just wanted to wish you the best of luck on this wiki. Someone is sure to welcome you soon. But you'll just have to wait it out. -Your biggest bro
Hey, I welcomed him. Why didn't you? TheYellowDart—(t/c)

Because I'm not part of the Welcoming Commitee.-CT.EXE

JOIN!! JOIN!! TheYellowDart—(t/c)
[edit]
hey there, Viklas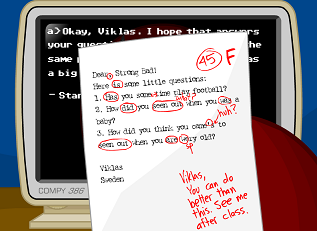 Wow, I can't believe that we didn't have a Viklas yet. Although we do have a AbdiViklas. By the way, little questions is my second favorite email next to kids book. Well, welcome to the wiki. Take a look around and make yourself at home.
I R F
20:33, 7 January 2007 (UTC)
[edit]
Re: SEGA!!
Hey Viklas. On your userpage, you wrote, "Everyone who likes Sega, sign your name here." Just to tell you, other users can't edit other users' userpages. Check the hRWiki:User space. Post that message here on your talk page. Oh, and I like Sega. I'm more of a Nintendo dude, but since Sega collaborated with Nintendo on the Gamecube, I like Sega a lot now. I really like the old Sonic the Hedgehog games on the Genesis. ...gotta love the spaghetti O's he collects! TheYellowDart—(t/c)
Yeah, you do! Anywho, whoever likes Sega, post your comments about it here.-Viklas
I like SEGA games a lot. Yet I'm also really interested in Yoshis. "Shadow's just angry because his girlfriend died." Neox
[edit]
You have been added
You and your brother are cool. You are added to my cool people list on my userpage. Congrats! TheYellowDart—(t/c)
Thanks man. I really appreciate it.-Viklas
[edit]
Personal images
Hey, Viklas. It looks like you've got three personal images uploaded: Image:Eggrobo.gif, Image:Chaos.jpg, and Image:Kid E.jpg. Unfortunately, there's a policy stating that we're only allowed to have two personal images on the wiki (plus one small one for use in one's signature). Just let me know which two you want to keep, and I'll tag the other one for deletion. Thanks!
Trey56 22:32, 8 January 2007 (UTC)
I'd like you to delete Image:Kid E.jpg. I'd like to keep the other two.-Viklas
I went ahead and deleted it for you. Thanks for your cooperation.

Heimstern Läufer

00:21, 9 January 2007 (UTC)
You're welcome, Heimstern.-Viklas
[edit]
Kid Chameleon
By the way, that is one hard game — I've gotten to some of the last levels, but I've never beaten it, despite several attempts. Have you beaten it?
Trey56 22:35, 8 January 2007 (UTC)
Nah, I've gotten to "Caves of Illusion", but I haven't beaten it.-Viklas P.S.: I've been working very hard on that game.

I play the game on one o' them plug-in games. I've found several warp spots, which eventually takes me back to "Under Skull Mountain", which I've never gotten past.
[edit]
Signature
Hey Viklas, I'm sorry, the wiki policy is that signatures may not be taller than 20 pixels. I went ahead and fixed your sig according to the policy. Too bad that you can't really see what it's supposed to be now. :-/ Maybe you'll find a better image. Have a look at HRWiki:Signature and Help:Signature for the policy and some help. Loafing
02:29, 9 January 2007 (UTC)
[edit]
About your user page
You asked users to sign on your page, even me, and that is against our User Page Policy. Unless you get permission for a sysop I can't edit your page, unless you do it for me. See you later, TheYellowDart—(t/c). Head over to my userpage and watch some funny videos (some are Robot Chicken) and some hilarious pictures.
[edit]
Editing Others' User Pages
I see you have been editing other people's user pages. You can't do that. I know you're new here and all, but I'll tell you, if you keep this up you may get banned. Hey, remember, you are a cool person ;-), let's keep it that way. TheYellowDart—(t/c)

I see you keep on editing others' user pages. That is not tolerated. Please stop. --TheYellowDart—(t/c) 00:18, 20 February 2007 (UTC)
[edit]
Who likes Futurama or Family Guy?
Is evry1 going to post that yet? I am really bored. -Viklas
Well, no posts are up yet. I'm taking a break.exe.
Hey there, Viklas. Please tell me how you and User:Lazor are related. Do you know each other? Are you the same person? Loafing
00:35, 20 February 2007 (UTC)
Good question, Loafing, we've been related ever since he was Cool Tapes.exe. Actually, that guy was
my brother. Anydangways, of course he was related! Why wouldn't he? As always, he would change the user just to cheese people off. People would be like, "Hey! It's Cool Tapes.exe! You know, your brother!" But then they are now asking me questions about how we relate. There's your answer, Loafing. -Viklas
20:07, 19 February 2007 (UTC)
Well, Viklas, sockpuppetry is something that we take very seriously here. We do not allow people to have more than one account. Users who knowingly create sockpuppets to manipulate the wiki or to vote on STUFF will get blocked. So you are saying that Cool Tapes.exe is your brother and Lazor is his sockpuppet? I will go talk to him, then. As for you, make sure that your brother does not edit using your account anymore, that's usually a recipe for misunderstandings and bad blood. Loafing 02:19, 20 February 2007 (UTC)

Heh, heh. He's right. I should know this. --TheYellowDart—(t/c) 02:21, 20 February 2007 (UTC)
Whoa! Great idea! I'll give my brother AND the sockpuppet a few questions! Thanks, Loafing! -Viklas 20:23, 19 February 2007 (UTC)
[edit]
Signature
Please do not use my signature. Or any other sig that's not your's. Thanks. Loafing
02:26, 20 February 2007 (UTC)
Ooook....if you say so. -Viklas 20:29, 19 February 2007 (UTC)
[edit]
New Emails
Every day I check to see a new Strong Bad Email, and I've been DYING to see what #168 will be about. Maybe about this sender telling Strong Bad if The Cheat takes a bath or not. - From a great fan, Viklas
20:46, 23 February 2007 (UTC)
Dear Viklas, I think The Cheat does take a bath, because we've seen a picture of him on Strong Bad's website right after he did so. By the way, the Strong Bad Email talk page is for discussing things about what to put on the Strong Bad Email page itself. If you want to chat more about what kind of emails Strong Bad should answer, you might try the forum. Cheers. — It's dot com 02:56, 24 February 2007 (UTC)
Ok, let's take a look, shall we? -Viklas
21:02, 23 February 2007 (UTC)
Wow, look at some of these. Forum Toons; I have been waiting to see if any sysops created new ones. This is WAY better than any forum (except theGHZ.com)! -Viklas
9:40, 24 February 2007 (UTC)
[edit]
Page creation
Could you please explain for me why you have created the page Marzipan's Not So Lucky 13th Answering Machine twice when there is no such toon on H*R.com? Please understand that this wiki is not a place for you to goof around and make joke pages, if that is what you are doing. Heimstern Läufer
21:15, 4 March 2007 (UTC)
Let me explain to you, Heimstern. It is because the "404'd!" means I made a page that never exsists. -Viklas

Creating pages that do not have a purpose as part of our knowledge base is considered vandalism. Please don't do it again, or you may be blocked from editing. Thanks.

Heimstern Läufer

21:53, 4 March 2007 (UTC)
Ok. -Viklas
[edit]
Need I say this?
Please see my user page immediately. And NO, I will never change my username. It's been created. I don't wanna change it. I started being on Wikipedia in 2006 anyway. --Addict 2006 19:58, 16 March 2007 (UTC)
Wait, wait, wait. I, on the other hand, knows what year this is, and furthurmore, I just want you to know that I am not letting you create a sockpuppet. So please have a notice that it really is 2007. -Viklas
[edit]
About WikiGnome
I'm finally in the WikiGnome list! Hurrah! -Viklas
11:06, 26 March 2007 (UTC)
[edit]
Blocked
I have no idea what just got into you, but edits like this one, which uses profanity and sexual language and implies anti-Semitism, are completely unacceptable here, especially since you did it twice. You are blocked for three days. If you do this again, you can expect to be blocked for much longer. Please stop, and in the future, find ways to contribute positively to our knowledge base. Heimstern Läufer
00:36, 4 April 2007 (UTC)
[edit]
Block #2
Viklas, while I was tempted to assume that this threat was a joke, I see that you immediately vandalized this wiki with offensive language through your IP address. As a result, your account has been blocked for a month.
If you decide to return after this time period and contribute positively, let me be clear: you will receive no further chances. If you attempt to disrupt this wiki once more, you will be blocked indefinitely.
Trey56 04:48, 10 April 2007 (UTC)
OMG...I don't even know you anymore, little bro. -User:Cool Tapes.exe
Only a month? Dude, he's being racist. Mabye if he put "George Bush is a peice of crap" on every single page, a month would be sufficiant. But racism? No offense to you Cool Tapes, but I think 2 months is better. And yes Trey, I realize that it is not my buisness, but racism just really ticks me off. --

Jangles5150

20:03, 24 April 2007 (UTC)
P.S. I am niether denying nor agreeing with the fact that Dubya is a peice of crap. --

Jangles5150

19:24, 25 April 2007 (UTC)
No offense taken, man. - CT.EXE
Unrelated business: No sockpuppets for me nor you. --Addict 2006 04:49, 13 May 2007 (UTC)
[edit]
Civility
Viklas, you know that editing this wiki is a privilege. Edits such as [1] and [2] are not tolerated. Please change your ways or your editing privileges will be taken away. Thanks. Loafing
23:53, 17 May 2007 (UTC)