User:Slipknot6477
From Homestar Runner Wiki
A. Chimendez's Quote of the Whenever
"And thats how i become a law!"
subject:message

Probably not going to log on too much.



[edit]
Some funny quotes
[edit]
funny stuff i helped out with in the sandbox
[edit]
winners of old trivia contest
[edit]
you know you watched to much homestarrunner when...
something weird happens, and the first thing you say is, what the pfargtl?
you take 30 minutes to answer an email when you arent at the computer screen, or even sending it.
when you tape a giant printer above the computer in hopes that it will print out what you want it to without touching it.
you think it is ok not to wear pants.
you start an army when the generals are a poopcorn maker, a wooden spoon, and a plastic bowl.
you try to kill the no digging sign.
you think your computer can talk.
you think flushing yourself down the toilet can make you grow.
when your friend leaves, you make a cardboard cut out of him/her until he/she comes back.
[edit]
my contributions
705 page edits
joined welcoming community and welcomed 14 people
joined the validation community
character relationship
[edit]
special userboxes
from, santana:
| | |
| --- | --- |
| SMRT | This user has guessed SantanaHomerunner's Claustrophobic Close-up correctly. Intelligence level: Really Observant. |
 from kanjiro:

 from me:

[edit]
checklist
[edit]
the me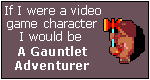 " I am a Gauntlet Adventurer.

I strive to improve my living conditions by hoarding gold, food, and sometimes keys and potions. I love adventure, fighting, and particularly winning - especially when there's a prize at stake. I occasionally get lost inside buildings and can't find the exit. I need food badly. "http://quiz.ravenblack.net/videogame.pl
starrunnerhomestarrunnerhomestarrunnerhomestarrunnerhomestarrunnerhomest
arrunnerhomestarrunnerhomestarrunnerhomestarrunnerhomestarrunnerhomestar
runnerhomestarrunnerhomestarrunnerhomestarrunnerhomestarrunnerhomestarru
nnerhomestarrunnerhomestarrunnerhomestarrunnerhomestarrunnerhomestarrunn
erhomestarrunnerhomestarrunnerhomestarrunnerhomestarrunnerhomestarrunner
homestarrunnerhomestarrunnerhomestarrunnerhomestarrunnerhomestarrunnerho
mestarrunnerhomestarrunnerhomestarrunnerhomestarrunnerhomestarrunnerhome
starrunnerhomestarrunnerhomestarrunnerhomestarrunnerhomestarrunnerhomest
arrunnerhomestarrunnerhomestarrunnerhomestarrunnerhomestarrunnerhomestar
runnerhomestarrunnerhomestarrunnerhomestarrunnerhomestarrunnerhomestarru
nnerhomestarrunnerhomestarrunnerhomestarrunnerhomestarrunnerhomestarrunn
erhomestarrunnerhomestarrunnerhomestarrunnerhomestarrunnerhomestarrunner
homestarrunnerhomestarrunnerhomestarrunnerhomestarrunnerhomestarrunnerho
mestarrunnerhomestarrunnerhomestarrunnerhomestarrunnerhomestarrunnerhome
starrunnerhomestarrunnerhomestarrunnerhomestarrunnerhomestarrunnerhomest
arrunnerhomestarrunnerhomestarrunnerhomestarrunnerhomestarrunnerhomestar
runnerhomestarrunnerhomestarrunnerhomestarrunnerhomestarrunnerhomestarru
nnerhomestarrunnerhomestarrunnerhomestarrunnerhomestarrunnerhomestarrunn
erhomestarrunnerhomestarrunnerhomestarrunnerhomestarrunnerhomestarrunner
homestarrunnerhomestarrunnerhomestarrunnerhomestarrunnerhomestarrunnerho
mestarrunnerhomestarrunnerhomestarrunnerhomestarrunnerhomestarrunnerhome
starrunnerhomestarrunnerhomestarrunnerhomestarrunnerhomestarrunnerhomest
arrunnerhomestarrunnerhomestarrunnerhomestarru
[edit]
see also
User:slipknot6477/usetbox