User:Einstein runner
From Homestar Runner Wiki
(Difference between revisions)
m (Domain's been changed.)

Line 98:
Line 98:

{{User:Einstein runner/sig}}

{{User:Einstein runner/sig}}

-

<span class="plainlinks">[http://www.mindistortion.net/iwantyoursoul/?i_am=Einstein_runner I want to eat your soul!!!]</span>

+

<span class="plainlinks">[http://www.mindistortion./iwantyoursoul/?i_am=Einstein_runner I want to eat your soul!!!]</span>

<span class="plainlinks">[http://kevan.org/brain.cgi?Einstein%20runner Graaaagh!]</span>

<span class="plainlinks">[http://kevan.org/brain.cgi?Einstein%20runner Graaaagh!]</span>
---
Revision as of 06:25, 5 April 2008
—Einstein runner (
)
talk · contribs · sig · holiday sigs

HRWiki:Userboxes
| | |
| --- | --- |
| | This user PROUDLY uses a Mac. |
| | |
| --- | --- |
| RIGHT | This user is right handed |
| | |
| --- | --- |
| | If you want it to be possessive, it's just I-T-S, but if it's suppposed to be a contraction then it's I-T-apostrophe-S. Scalawag. |
| | |
| --- | --- |
| | One of this user's favorite characters is Strong Bad. |
| | |
| --- | --- |
| TEEN | This user is between 13 and 19 years old. |
| | |
| --- | --- |
| | This user found the wiki from a Google search. |
E=MC2!

Haldo! I have been a user for - crap, when was it? - whatever. Quite a while, and I have all the DVDs except for Everything Else. I have Strong Bad Sings and all the downloads from Dounloads. I even have Homestar wallpaper on my computer (the screensavers won't work)! I don't remember how I found homestarrunner.com, but I found hrwiki from the Google search ka-winky-dink. I have a Nintendo DS Lite, and am seriously anxious about getting Spore. Scroll down for some serious Main Page action!!!█

Which Homestar Runner character are you?
This quiz was made by Jurjyfrort

Which Napoleon Dynamite character are you?

Which Fantasy/SciFi Character Are You?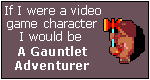 What Video Game Character Are You?
The Facts
Favorite email: the paper (so epic! so tragic! so heunh heownh heunh heownh vvvvvt eangt clonk-a-donk-ic!)
Favorite toon: DNA Evidence
Favorite Homestar game: Stinkoman
Favorite non-Homestar game: Phantom Hourglass (Oh. My. God. This game rocks.)
Favorite characters: Homestar, Strong Bad
Favorite non-Homestar Flash cartoon: The Demented Cartoon Movie!

Warning: This is a waste of 32 minutes of your time.
Page Creations
I started Nondescript Nouns and the ending of death metal. I also added and edited some image descriptions to Happy Trogday.
Favorite Characters
Homestar Runner, Strong Bad, and Homsar.
Favorite Quotes
"This is the first Decemberween ever!" Homestar, A Decemberween Pageant
"I might even say it was a negative challenge!" Stinkoman, Level -0
"Alms for the pudgy, alms for the pudgy!" Homsar, Homestar Presents: Presents
Welcome to the Homestar Runner Wiki, the Homestar Runner knowledge base that anyone can edit.
We're currently working on 3,066 articles about our favorite Internet cartoon.
Main Menu: Main Pages | Toons | Games | Characters | Downloads | Store | Email | Legal | Museum
If you've found this knowledge base useful, please consider
making a donation
. Donations are used primarily to cover domain registration and hosting costs.
Other Stuff
Graaaagh!